DATA Inspector
Google Analytics Audit Tool
The DATA Inspector is our Google Analytics audit tool – an automated tool for you to get on top of your data quality and verify it has no collected personal information.
For example, differences between e-commerce systems and advertising platforms (the data gap), is a common problem. It's frustrating at best, but flawed data also leads to bad decisions. Our DATA Inspector keeps you on top – before small problems become big issues.
Audit Overview
Automated checks drill down through your Google Analytics setup using decision tree logic to identify problem areas, including missing data – for both Universal Analytics and GA4.
Verify that no personal identifiable information (PII) has been collected. We integrate with Google's AI for advanced PII checks covering 38 countries. Read more about our PII method.
You set thresholds to avoid audit "noise". Adjust these and re-audit in real time e.g. a threshold to determine a suspicious e-commerce quantity – including duplicate transactions, or when to flag the divergence of Google Ads clicks versus Ads sessions.
And data governance would not be complete without access and permissions checks – an audit process to ensure ex-staff, ex-agencies etc. do not have access to your data.
Read more about our features.
Regain Trust in Your Google Analytics
When your Google Analytics reports do not match your other data sources, senior management quickly lose trust. It results in the loss of the competitive advantage Google Analytics brings to your business. Verified Data enables you to regain that trust.
Find Issues Quickly
Spot inconsistent or missing data, before it becomes serious.
Universal & GA4 Checks
Audit with drill-down "decision tree" logic that identifies problem areas.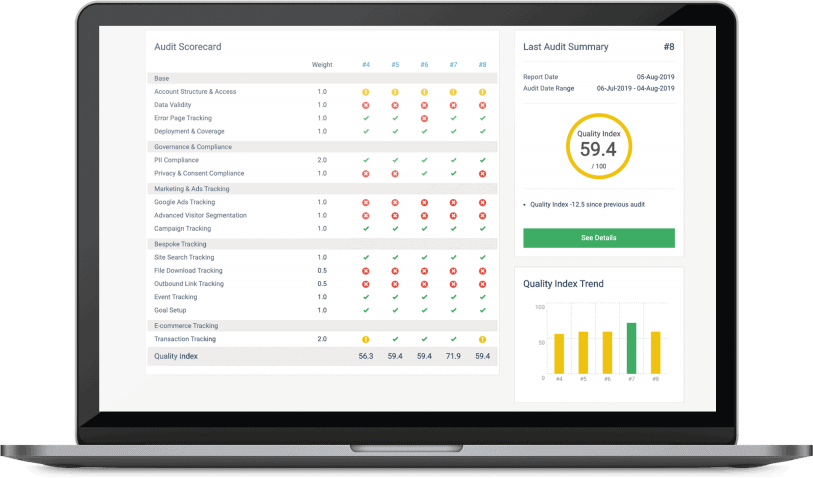 Automated
Schedule audits for peace of mind for all your web properties.
Free Up Staff
Because we automate, your staff do less "engine room" work.