1. Verified Data v2 – Big changes, same approach
Since before the summer, the team has been hard at work building the all new version Verified Data. This is a major upgrade, though the same hybrid principle still applies. That is, a Data Inspector to audit your Google Analytics data and a Page Inspector to audit your website pages. But that is where the similarity ends…
KEY CHANGES:
Separating the Data Inspector from the Page Inspector
Allows each component to run separately.
If you just want to audit your GA property, the report is built within a minute! No more waiting around for the Page Inspector to also complete.
Page inspection naturally takes longer – each crawled page must load be and checked for what data is collected. The new version will audit other tags that fire on page load/clicks. That is, not just those related to Google Analytics – providing a unique compliance insight (see Audit Other Trackers feature)
Support for GA4 Properties (Data Inspector)
New checks specific to your GA4 properties.
Audit Other Trackers (Page Inspector)
With the separation of the Page Inspector, pages and clicks will be audited for ANY tracking pixels that fire! Any pixel that sends data e.g. any analytics tool, Facebook tags, LinkedIn tags remarketing, retargeting, market automation pixels etc., will be audited (i.e. 100s of other tracker tools). Powerful stuff for knowing what data fires, to where and when – giving you complete control of your site's data map and its compliance risks.
Monitor & Alerts
Audits are great summaries in time, but monitors and alerts ensure you are informed when change happens.
For both for the Data Inspector and Page Inspector.
Quality Index Themes
QI reports are a great way to engage senior managers with data quality issues, priorities and progress, and these will continue to be a key feature.
QI Themes allow you to build a quality index report only for certain parts of your audit. An example is a QI report only for Privacy Compliance checks. Others could be: Marketing Accuracy, Account Governance – as well as combining all checks (how v1 works today). Add a comment if you have other theme suggestions.
We are also considering a feature to customise/build your own QI Theme. Useful?
If you want to be a part of the private beta (coming late 2021), please contact us at at hello '@' verified-data.com.
2. Hear Me Speak at Measure Summit – Get your free ticket
This year I will be presenting my whitepaper on those annoying consent banner pop-ups. Specifically:
How to gain visitor consent without losing most of your data.
If you care about privacy and being compliant for GDPR, this is a must see!
Get your free ticket for this virtual event: http://bit.ly/msresummit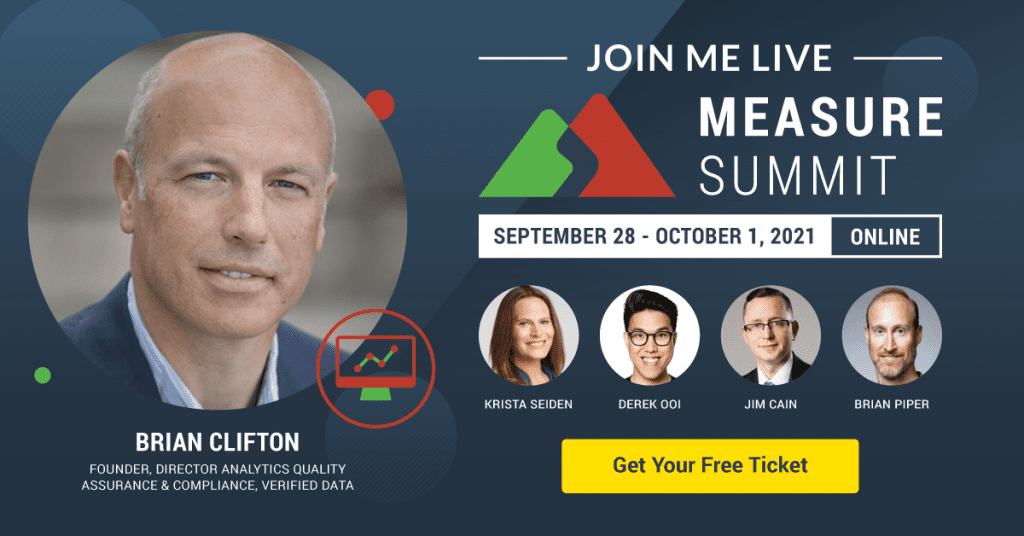 As always, we love to hear your feedback on this new release! Please add your comment or contact us directly at hello '@' verified-data.com.