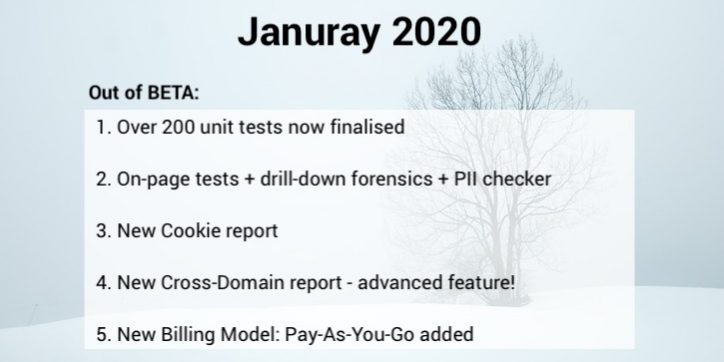 Out of BETA. Yaaay….
We launched Verified Data as a beta in 2018 and since then hundreds of corporations and agencies have been verifying their Google Analytics setups, data quality and privacy compliance. It's been emotional…!
We have listened to user's feedback and improved our impressive tech stack (both visit simulator and test algorithms), revised the user interface, and introduced a new pay-per-audit billing plan – including an impressive free audit section for up to 5 websites, each of 1000 pages! (see what's included for free)
So now there really is no excuse for not knowing your data quality or privacy compliance!
What's new (out of beta):
New Report: Cookie Report – listing what cookies, how many, and what type (1st and 3rd party) are being set, with tests for governance.
New Cross Domain Report – numerous checks to validate cross-domain tracking is working correctly.
New Google Ads test: GCLID persistence – this on-page test checks your landing pages to ensure gclid is present so Google ads are valid
New Billing Model: Pay As You Go billing added i.e. as a fixed one-off cost audit to compliment our subscription packages for unlimited audits.
Sitemap Detection – our visit simulator now automatically checks and will use this if found.
New PDF summary – sent via email when an audit completes so you get the audit headlines without the need to log in.
Plus numerous other fixes, tweaks and enhancements to make auditing easier!
Credit where credit is due…
Many talented people have contributed to the development of Verified Data – here is a list of the key figures: Dan Van Wijk, Kristian Svensson, Petter Lindström, Sara Clifton, Maria Grönlund, Viktor Olsson, Tristan Bailey.
Brian Clifton
Co-founder Verified-Data.com